Mistress Chatterley of Oxford and London (W1)
Sessions with me can be described as erotic, sensual and strict. As a Pro Domme my sessions are tailored to the level of experience and fantasy that you desire. Mistress Chatterley invites submissive slaves both male and female to her well-equipped chambers in the heart of London. Only those willing to obey me and realize their innermost fantasies should contact me. The Submissive should expect their Mistress to push them to their limits in an effort to please their Mistress and become a true submissive.
Mistress Chatterley | @Clips4sale | Mistress Chatterley Clip Store

Miss Myers of London (Islington)
An audience with Miss Myers is an encounter of a very special kind. Her diverse and honed skills; Her chilling attention to detail; Her wicked sense of humour; Her subtle cruelties; Her soft, cultured voice. All this and more combines to ensure that a visit to Miss Myers shall make an impact upon you in more ways than one.

Mistress Scarlett Black of Leicester
Leicester's premier Mistress. Talented torturess, sadistically sensual, erotically cruel. Specialising in strapon and all anal erotic play. She also caters for most fetishes and scenarios, including BDSM, CBT, NT, bondage, domination, humiliation, role play, foot and boot worship.

Princess Jessika of Tower Hill, London
I am cute and blonde with blue eyes but do not be fooled. I love making grown men wimper at my feet. I enjoy various forms of play, from physical punishment using a variety of implements to psychological torture and mind games. I will hurt a masochist and humiliate a submissive. Live sessions are usually held at my comfortable Central London apartment. I also have a dark underground cellar in Plaistow E15. This is where I cage slaves in the dark and torture my victims. Be warned, this is a truly scary experience.

Miss Jessica of Watford
I have been in the scene since 2003 & over this time have gotten better & better at the things I love doing to my subs. I have a wicked sense of humour & will always try to push you to your limits. I specialise in CP, facesitting & ballbusting sessions. You can also download clips of me in action.

Miss Kitty Bliss of Gatwick and London (SW9)
Divine Mistress (Professional & Lifestyle)... Refined & Revered! Tantalizingly tasty, sensual, STRICT and cruel when necessary pro Femdom for domination and sub training. Whether you are new to the scene or are highly experienced at being a sub - your fetish is my delight and I would like to welcome you my world of debauchery. Come with me on your journey of self discovery and enlightenment whatever your needs, desires, fears and fantasies. I will provide you with guidance, nurturing and strict discipline.

The Gates - SF/Bay Area
We are The Gates - the premiere house of bondage and discipline in the Bay Area since 1994, featuring a stunning array of beautiful mistresses who are ready to join you in the exploration of every perverted decadence that the human mind can conceive. Enter the Realm of the Extraordinary – immerse your senses in mental and physical extremes in one of our five lavishly equipped playrooms, and surrender yourself to your fantasies of bondage, discipline, roleplay and fetish fulfillment for a few sumptuous hours.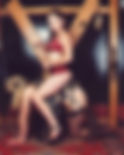 Mistress Aurora The Chastiser New England's Pro Domm Mastering The Art Of Seduction, Desire, Torment Your Pain Is My Pleasure I'm ready to help you discover and uncover those deep dark desires that you've been suppressing most of your life.Or become the Dom that will take you to your breaking point! I love what I do and I am very crafty with it. I love using my femininity, and my physical strength to take advantage of your mind, body and soul. Are you ready to let go and give me control?

Mistress Nina Devine of San Francisco
I am a passionate full time kink and professional BDSM Dominatrix, and I guess that you are reading this because you need to get out of your routine. With me, you have the opportunity to be yourself, to be safe, and to not be judged. Whether you are new or already trained, let me guide you through your fantasies, you can always learn something new...allow your mind to experience pure ecstasy.
​
​