SOUTH CAROLINA MISTRESSES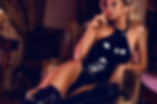 ​
I am always ready to put you under my hot spell. It's in your mind forcing you to submit to my powers. I can subdue you with a glance of my eyes or with a simple move of my hand. My mind will take you on a new trip where you will get to know your desires and your limits. But guess what? I will make you push them far away from what you have ever tried.

To Advertise here please go to our Advertise / Contact us page..