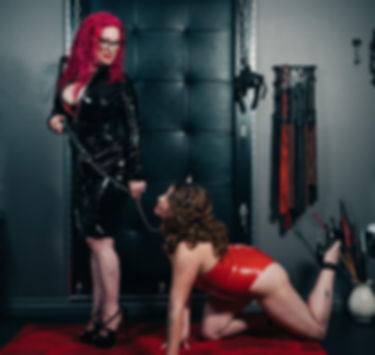 Natasha Strange
Portland Oregon
​
I want to mold you into something much more to My liking. Something that will serve and entertain Me. Something that will worship Me. I adore dressing you up like my little plaything. Forcing you to perform deviant acts while I giggle. I thrive on inflicting you with sensation, be it the sting of a cane, the zap of electrical or the thud of my paddle. Or perhaps I will withhold all sensation, wrap you in layers of leather restraints, unable to move so you can concentrate on my velvety voice as it takes you under. I have over 25 years of experience in BDSM, which has given me a deep understanding of what brings people to kink. I value longer term trust based relationships with submissives above all, so I can truly invade your brain and bring O/our fantasies to life.
​
Princessa Natasha Strange | @Twitter | Instagram I Niteflirt
MS Juliana - Oregon Newport
​
Gentle FemDom for sissies crossdressers chastity and findom.
​

Katherine Dire - Portland Oregon
​
I'm a Sensual Mistress and Hypno-Domme. With many years of study and exploration, I've come to specialize in naturally occurring altered states of consciousness, taboo and edge play, and long-term slave training. I have a sweet, lady next door sort of countenance, with the ability to dance on the edge and push you to explore your deepest desires. These things can be scary to say the least. You'll find my warmth and confidence soothing.
​
Princessa Natasha Strange - Portland Oregon
​
Princess Natasha Strange has been a professional dominatrix and FemDom Educator since 1995. Her approach is based on creating connection and building trust based relationships to facilitate exploring your taboo kinky fantasies. Her favorite activities involve bondage, spanking, and taking down the patriarchy one pantied, plugged ass at a time. Of course that is just the short list. Visit her website for more information.
​