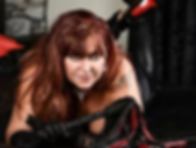 ABOUT ME
​
I offer a number of services; Domination Humiliation Pussy worship Foot worship Sissy training Slave training Bondage BDSM Correction Guided relief I specialise in seductive domination. You'll find me well spoken and quietly spoken as I never need to raise my voice. If I'm really annoyed, I'll lower it and then you know you're in serious trouble. I offer incalls at my beautifully discreet location on a small cul-de-sac in a leafy area on the outskirts of Sheffield and my neighbours believe me to be a self-employed Accountant so think nothing of well dressed men arriving in nice cars and staying for an hour or three. I would ask that you do park on my drive to save any of my neighbours being inconvenienced.
HOW TO ARRANGE A SESSION WITH ME
You should firstly view my availability on my website (and my requested tributes of course)and if I am available, you may call me (you'll find my telephone number on the Contact me page of my website). If I'm not available at the time you wish to contact me, you can send me an email and await my reply. For reasons of discretion, if I miss your call, I will never call you back. I will simply drop you a polite text. If you'd rather I didn't do this, simply drop me a quick text asking me not to after you've hung up.