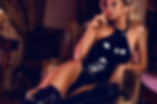 ​
I am always ready to put you under my hot spell. It's in your mind forcing you to submit to my powers. I can subdue you with a glance of my eyes or with a simple move of my hand. My mind will take you on a new trip where you will get to know your desires and your limits. But guess what? I will make you push them far away from what you have ever tried.

Mistrix Ms E of Gary
Stunning, creative, articulate goddess. Former centerfold/video star. A skilled sadist with a sense of humor, I enjoy all manner of fetish as well. GS/BS/RS, needle/knife play, and breath play are favorites. Switch Miss Jerzee is also available 7 days a week for scenes at the Disciplinarium.