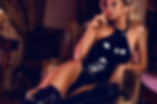 ​
I am always ready to put you under my hot spell. It's in your mind forcing you to submit to my powers. I can subdue you with a glance of my eyes or with a simple move of my hand. My mind will take you on a new trip where you will get to know your desires and your limits. But guess what? I will make you push them far away from what you have ever tried.

Domme Olivia of Denver
I am trained, experienced, and enjoy most disciplines in the BDSM genre. I have the utmost respect for submissives and the trust they must place in My hands to enable surrender of their desires to submit to a Dominant woman. Your submission is a precious gift and should only be given to someone who treasures it.